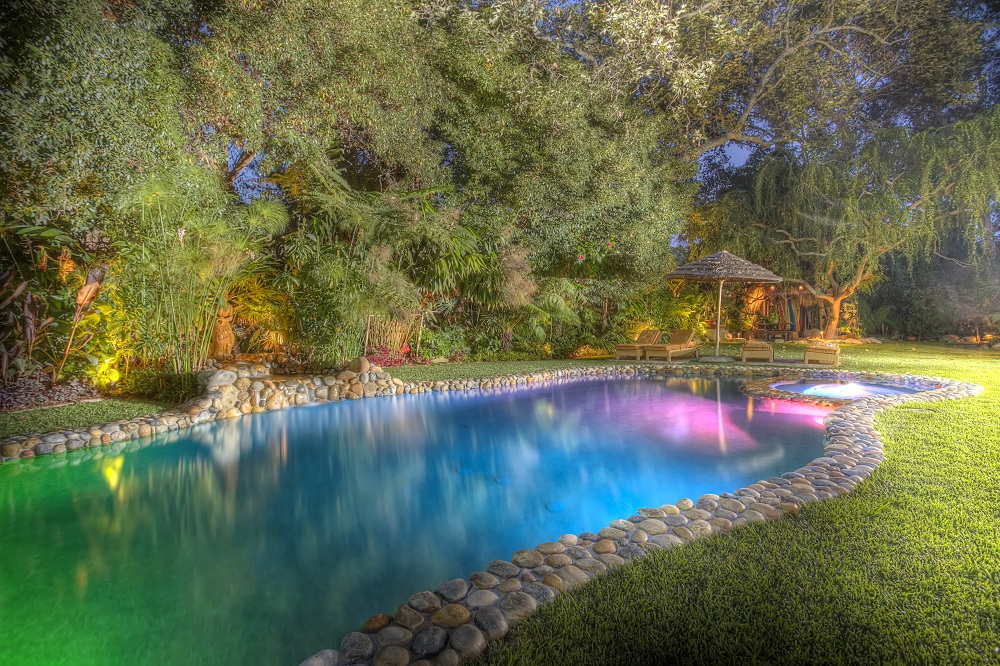 Electrical Design for Outdoor Living
Electrical design projects are instrumental for creating, not only indoor spaces, but also outdoor living areas that are practical, attractive, and above all, safe. Consider revamping your outdoor space for entertaining, relaxing, or for enhanced safety. Effectively incorporating electrical elements outdoors can expand your living space and increase the value of your home. Smart electrical design is a must, whether you are interested in landscape lighting for your garden and/or backyard, lighting and wiring for your pool, security and motion lighting, or a new kitchen/grilling center. Extra precautions must be taken when doing electrical work outdoors. Because of the potential risks involved due to outside elements, be sure to contact a professional before starting an outdoor electrical project.
Landscape Lighting
Make your backyard usable at night with lighting that transforms the space after the sun goes down! The first step is to choose which types of lights and fixtures will work best. Spotlights, for instance, can highlight specific features, while floodlights can illuminate a wide area. Choose how you want to power your outdoor lighting and envision where to place the fixtures. Enjoy the outdoors all year round – from cool starry nights and beautiful sunsets to warm summer evenings and crisp autumn nights.
Pool Lighting and Wiring
Proper lighting and wiring for your pool is very important. If any part of the fixtures, transformers, or wiring become submerged in water at any time, they could pose an extreme hazard to others. Pool lighting design can also enhance the pool's appearance and allow for a great deal of creativity. Consider how you want your pool area to look and the electricians at Prime Electrical Service will be sure to help.
Security and Motion Lighting
Good home security lighting anticipates potential threats by discouraging break-ins. When designing a security lighting system, we recommend surveying the home's perimeter to identify potential security risks, evaluating which styles will work best for your home's architecture, researching the neighborhood's criminal history, and considering how lighting will impact the surrounding areas. Choose locations where the light fixtures cannot be tampered with as easily. Security and motion lighting should illuminate key areas around your home, like the front door and along paths, to help people avoid threats and enhance our sense of safety when spending time outdoors
Kitchen and Grilling Centers
Adding an outdoor kitchen or grilling center expands your living space and allows you to cook and entertain outside. We can help you design the perfect space for backyard BBQs and summer soirees. Whether you are thinking of a simple or more involved design, outdoor kitchens should be strategically placed. Consider views from the kitchen, privacy from neighbors, and proximity to windows, doors or balconies. Sun, wind, and shade are additional factors to think about. Place dining patios upwind of smoke when possible, and use natural shade to provide comfort year-round.
For more tips and suggestions, contact us at Prime Electrical Service by calling 610-994-0290.