What Makes Recessed Lighting Such a Popular Residential Lighting Choice?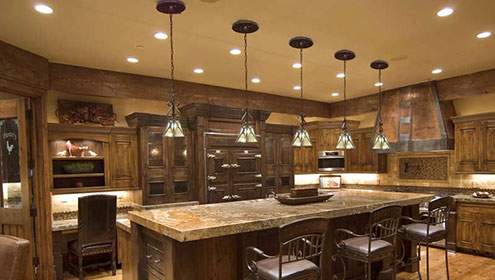 A home's lighting can play a large part in an individual's overall satisfaction. Poor lighting, for example, can actually lead to eye strain and headaches, whereas thoughtfully designed residential lighting can help reduce those unpleasant side effects and even create a desired ambiance. One popular lighting style is recessed lighting.
What is Recessed Lighting?
Fixtures that are either flush with the surrounding area, or sunk into the surface, are considered recessed lighting. Recessed lighting can provide either spot lighting or area illumination, depending on the style, installation methods, and homeowner preferences. Recessed lighting can also be used in outdoor residential lighting applications around pools, walkways, and patio areas, as well as in garden sheds or as accent lighting for interesting features.
Money Saving Benefits
Saving money on controllable expenses, such as electricity, is a major motivator for many homeowners in the King of Prussia area. Upgrading residential lighting to more efficient fixtures is one way to reduce overall power bills. Most recessed lighting fixtures can support the high efficiency LED bulbs that have been proven to help reduce homeowner costs.
Common Uses for Recessed Lighting
The main use for recessed lighting is to provide indirect illumination in otherwise dim areas. Homeowners commonly install this type of residential lighting:
Under hanging kitchen cabinets to illuminate the counter tops for easier and safer food prep.
In showers, (using watertight models) to provide better lighting in commonly darkened space.
In larger rooms to light up only a small portion at a time, such as above a reading nook.
In low visibility areas, such as corners, closets, and storage spaces.
Along hallways for better visibility and safety when walking at night.
Get Creative
You can find many wonderful uses for recessed lighting. Recessed residential lighting is very handy in places with lower clearance, or where fixtures may become damaged easily, such as workshops, crafting rooms, and play areas. You can have them installed simply to highlight architectural details, art pieces, photo galleries, or collections.
The options are only limited by your interior lighting design, which can be updated by an experienced professional from Prime Electrical to give you a custom lighting experience that is perfect for your home and your needs.
Call Prime Electrical for Residential Lighting Design and Installation
For over 30 year, Prime Electrical has worked with residents to design and install both indoor and outdoor lighting, electrical wiring and more. For information regarding lighting design, or to request a consultation on updating your home's residential wiring, please contact the experienced electricians at Prime Electrical Service today.