Popular Choices for Electrical Service Design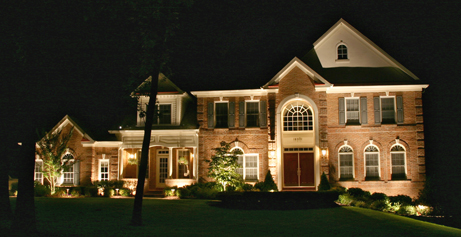 When it comes to your electrical service, design plays a key role; ensuring the electrical system is safe and efficient, as well as integrated into your home in such a way as to provide visual appeal, increased home value, and functionality. Prime Electrical Service has outlined a few popular choices for electrical service design.
Electrical Service Design Options Include:
Up lighting of architecture
 Designing residential lighting to highlight key architectural details, both inside the home and out, can greatly increase the visual appeal of your home while boosting the home's value. Common types of architecture that can benefit from up lighting include interesting features on the outside of the home, artful crown molding, built in bookcases or cabinets, interesting artwork, and more.
Outdoor lighting design
Incorporating lighting into outdoor space offers the homeowner many benefits, including increased home value, added visual appeal, and security. When designed mindfully, outdoor lighting can illuminate areas of the yard that can hide potential threats such as tripping hazards or intruders.
State of the art technology installation
Electrical design has grown in recent years to include the installation of high-tech home features, such as home networks and hardwired entertainment centers. When designed and installed by a professional, the challenges and drawbacks of high-tech homes, such as cable clutter and improper installation, can be avoided.
Emergency backup installation
Electrical design services may be cosmetic or related to technology advancements, but sometimes they are used for safety or emergency measures. For example, many homeowners opt to have their emergency generators hardwired into the home, which requires professional design for the safest installation and operation.
Wiring upgrades
Older homes with outdated fixtures and electrical devices can greatly benefit from professional electrical design. Your unique electrical needs can be evaluated and met while ensuring your home's electrical system meets current codes and safety regulations.
Who Can Benefit from Electrical Service Design
Homeowners of all types and walks of life can benefit from professional electrical service design; whether they want to increase their home's value and curb appeal or simply ensure their families are kept safe with updated electrical wiring. Electrical design is particularly important for new builds and renovations as this will allow your electrical service to be tailored to your family's unique needs.
Call Prime Electrical Service for Skilled Electrical Services
For more information on the types of electrical design services and how they can benefit you, please contact the expert team at Prime Electrical Service. Prime Electrical Service has over 30 years of experience serving the Pennsylvania and surrounding areas with high quality residential electrical design services.